This week, our guest writer Dr. Shirin Towfigh will discuss Inguinal Hernia's and how they may be related to pelvic pain. 
Hi all. This is Dr. Shirin Towfigh. I am a Board Certified General Surgeon who specializes exclusively in all things hernia, with specialty in hernias among women and complications related to hernia repair. Inguinal hernias are a common and under diagnosed cause of pelvic pain. Here, I'll share my secrets, tips, and tricks on how to accurately diagnose  inguinal hernias. Early and accurate diagnosis can lead to reduction in cost and suffering!
SIGNS & SYMPTOMS OF AN INGUINAL HERNIA
What is an inguinal hernia?
A hernia is a hole, usually through a muscle or fascia defect. Most hernias occur through natural weaknesses or natural holes. This is true of the inguinal region, where the inguinal canal is a natural tunnel through multiple muscle and fascial layers. In men, this allows for the spermatic cord contents to travel through. In women, it is much smaller and only fits the thin round ligament. Any hernias in this region are called indirect inguinal hernias. They are the most common among both men and women. Other hernias in the groin region include direct inguinal hernias (weakness through the transversus abdominis muscle), femoral hernia (medial to the femoral vessels, through the femoral space), and obturator hernia (through the obturator canal).
What is an occult inguinal hernia and how can it cause pelvic pain?
As the topic of inguinal hernias evolves, my practice has been at the forefront of studying and promoting the entity of occult inguinal hernias. These are hernias that do not present with a palpable bulge, and yet they are quite symptomatic. We see these mostly among women. In my practice, women comprise of 82% of those with occult hernias, whereas 88% of males present with the more typical hernia with a palpable or visible bulge. Many believe that a small hernia that can barely even be palpable cannot possibly cause any pain. Au contraire mon frère. The smaller the hernia, the more the associated pain. Imaging can help diagnose the majority of these hernias if there is a clinical suspicion. Hernia repair is a cure. In my series, 87% of those with occult hernias are pain-free within weeks of their hernia repair, and 93% had resolution of their preoperative pain by undergoing hernia repair.
How do you get inguinal hernias?
Inguinal hernias are common and can occur in a person of any age, with any lifestyle. In fact, we feel that most of the hernias that we treat have an underlying genetic component to them. If you have a relative with a hernia then you are likely slightly more likely to have a hernia. In my practice, we have noted that specifically having a female relative with a hernia confers an even stronger genetic link to hernia formation.
In some cases, patients may report a physical activity, such as lifting or moving a heavy object, associated with their hernia. They may have felt a tear or burning sensation in the groin at the time of this activity. Did that activity actually cause the hernia? We don't know. Most likely, the patient always had a hernia, though occult or asymptomatic, and the strenuous activity resulted in further opening of the hole, or more content pushed through the hole.
Most inguinal hernias are asymptomatic, that is, there is no pain or discomfort associated with them. There may be a bulge in the area of the groin. Also, most of the time, the bulge is reducible.
What are risk factors for hernia formation?
Activities that are thought to increase hernia formation include those that increase your abdominal pressure. These include straining to have a bowel movement, straining to urinate, long or multiple labors, repetitive heavy lifting of objects, chronic cough. This is why treating of constipation, cystocele, rectocele, asthma, bronchitis are important prior to any hernia operation.
Obesity has not been validated as a risk for hernia formation, but it has been shown to increase abdominal pressure. It is possible that there is an overall underdiagnosis of hernias among the obese, as they are asymptomatic and a bulge is poorly discernable on examination.
Nicotine use has not been associated with development of a primary hernia, however, it confers a higher risk of an incisional hernia or hernia recurrence after hernia surgery. This is because nicotine directly affects the quality of collagen deposition during the healing process. In my practice, the patient must be nicotine-free (no smoking, gum, or patches) for 6 weeks prior to their hernia repair and is encouraged to be nicotine-free afterward.
What activities should be restricted with a hernia?
Fortunately, most activities, including almost all exercises, have not been shown to increase abdominal pressure. These include sit-ups, bench press, weight lifting, dead lifts, and other exercises which one may think would "hurt" a hernia. Only two exercises—jumping and leg squats—have been associated with increase in abdominal pressure, and thus may increase the risk of hernia formation.
Patients who exercise regularly are less likely to have hernias. This is especially true among women. I regularly encourage patients to exercise both before and after their hernia operation. Yoga and Pilates are especially great for abdominal core and pelvic floor strengthening. Cycling and most gym exercises are also helpful. Golfing is safe. I tend to discourage crossfit-type exercises, as they tend to involve a lot of jumping, leg squats, and rapid movements with weights. Anecdotally, I have seen a disproportionate number of patients with groin pain after P90X and Insanity –type workouts.
Exercise is protective of hernias and in many cases can strengthen the pelvic floor and help reduce symptoms of hernias. Most of us hernia specialists do not recommend restriction of activity once a hernia is diagnosed.
What are key questions to ask to diagnose an inguinal hernia?
A detailed history is indispensible. By the time I finish my history taking, I can reliably predict if my patient has a hernia as the cause of his/her pelvic pain.
Most men will first complain of a bulge in their groin. Of course, that will most likely be from a groin hernia. There are very few other causes of bulge in that area, especially if it is a reducible mass. A physical examination will help confirm this.
Women with inguinal hernias more commonly present with groin pain than with a bulge. These are sometimes referred to as "occult" or "hidden" hernias. The pain is felt at or above the level of the groin. Half of the patients will have pain that may radiate up to the hip area, around to the lower back, into the testicle or vagina, to the scrotum or labia, down the front of the leg, and/or to the upper inner thigh region. Hernia-related pain never extends below the knee and is never at the buttock or down the back of the leg.
Symptoms can range from a dull discomfort to a disabling searing pain. The size of the hernia does not correlate with the severity of the pain. In fact, the reverse may be true: the smaller the hernia, the more pain associated with it. This may be due to increased pressure within the smaller defect.
Most patients with inguinal hernias have activity-related symptoms. Any activity that places extra pressure onto the inguinal canal and pelvic floor can theoretically cause pain at the hernia. This includes prolonged standing, prolonged sitting, bending, getting in and out of bed, getting in and out of the car, coughing, laughing. Sexual intercourse and/or orgasm may be painful. In women, ¼ of my patients report worsening pain during their menses.
Nausea and/or bloating are common complaints associated with hernias. I see this more often among my patients with pain. It seems that the nausea and bloating are the patient's manifestation of groin or pelvic pain. Contrary to fears, most hernias contain fat only. It is uncommon for inguinal hernias to contain intestine, unless they are large. Even most scrotal hernias contain fat as their primary content.
What are tips to performing an accurate exam for inguinal hernia?
The patient should be examined in standing position. This allows for gravity to accentuate any small hernia.
I approach the inguinal hernia exam in a very anatomic way. First, I identify the anterior superior iliac spine (ASIS) and the pubic tubercle. The line from the ASIS to the tubercle delineates the inguinal ligament. A typical inguinal hernia will be felt along this line, usually at the 60:40 mark (i.e., 40% of the way up from the tubercle, 60% away from the ASIS). Remember that the inguinal canal is typically oblique.
If there is a mass felt anatomically lateral to this 60:40 mark, which is thereby lateral to the femoral pulse, then this is not a hernia. More likely causes of masses felt lateral to the femoral pulse include abscess, lymphadenopathy, femoral artery aneurysm, or AV fistula.
What are examination findings for an inguinal hernia?
Large inguinal hernias of the indirect type, will have a scrotal (or labial) extension. If of the direct type, the hernia will jut out perpendicular to the lower abdominal wall skin. These are usually reducible and non-tender.
Moderate-sized hernias typically present with a bulge. While the patient is standing, you should be able to see this bulge. I compare the left and right sides and check for disparity in the groin area. Based on anatomic landmarks, you should be able to feel a soft mass, often reducible, rarely tender. Alternatively, a more invasive digital examination may be performed if you are unsure if there is a hernia. In men, use your index finger and start at the mid-scrotal skin; use this as your entry. Follow the spermatic cord cephalad and up to the inguinal canal. Feel the pelvic bone and slide your finger over the bone. Slowly and gently feel the lower abdominal muscles. Feel to feel for a weakness in the direct space. In women, an examination via the labia minora or alternatively through the vaginal wall may rarely be necessary. If you are unsure if there is any hernia, ask the patient to slowly bear down or cough.
For small hernias, an obvious mass or bulge may not be easily seen or palpated even after the maneuvers described above. In my experience, tenderness alone at the internal ring (the 60:40 mark) is diagnostic of an occult inguinal hernia and demands further workup, such as imaging, to confirm the suggested diagnosis. We found that point tenderness at the internal ring is 88% specific for an occult inguinal hernia.
DIFFERENTIAL DIAGNOSIS OF INGUINAL HERNIA VS OTHER SOURCES OF PELVIC PAIN
What are the various causes of pelvic pain?
Pelvic pain can arise from the abdominal wall, pelvic floor, intestines, uterus, ovaries, hip, and spine.
How can you determine if an inguinal hernia is causing or contributing to a person's pain?
There are two very specific findings you can elicit from the history of the person that will raise inguinal hernia high on your definition
   1. Activity-related pain
The symptoms of a hernia are often made worse with activities, similar to the symptoms of myofascial pelvic pain and unlike the symptoms of other pelvic pain (gynecologic, urologic, etc). Hernias are typically worse with activities that cause an increase in abdominal wall pressure. This includes pain with prolonged sitting, prolonged standing, bending, coughing, and laughing. This also includes pain with activities that involve engagement of the abdominal wall, such as getting in and out of a car or bed, pulling open a heavy door, lifting a heavy object/pet/child, and sexual orgasm. Not all patients have every single activity-related pain, but they usually have a series of them. It is uncommon to have constant unrelenting pain alone without exacerbation with activities. In these situations, the patient may have an incarcerated hernia or femoral hernia.
      2. Pain to the touch
Aside from myofascial pelvic pain, very few other causes of pelvic pain are reproducible to the touch. Patients with pelvic pain due to inguinal hernia will be able to point to you exactly where the pain is felt. If you know your anatomy, you will notice that their pain is at the inguinal canal. They will point at or above their groin crease in an area between their anterior superior iliac spine and their pubic tubercle. They may also have sensitivity to touch. They will report pain when leaning over a sink, such as to shave their face, wash dishes, or brush their teeth. They may be unable to wear belts, jeans, or constrictive underwear. Some patients come to my office wearing baggy sweatpants; the women tend to wear soft leggings or skirts. When examined, they may hunch over in pain and be hypersensitive to touch.
Can it be the Gastrointestinal?
It is not uncommon for patients with inguinal hernias to also be constipated, which likely contributed to the hernia in the first place. Also, they may have pain when their colon is full, just before a bowel movement. When straining, they may have lingering pain after a bowel movement. Some present with nausea and bloating. This is a manifestation of their pelvic pain and there is no actual intestinal involvement with their hernia. I have seen a lot of patients with hernias that had colonoscopies and full gastrointestinal testing as part of their workup, which was normal.
Can it be Gynecologic?
The female patient's pain may increase during her menses. I see this in ¼ of my female patients. This has to do with the hormonal changes during that period. Unlike endometriosis, however, symptomatic hernias have no pain-free episode in between the menses. Also, with endometriosis, there should not be pain felt at the inguinal canal. In rare instances, there may be an endometrioma in the abdominal wall or endometriosis implant along the round ligament that may mimic symptoms of a hernia.
Inguinal hernias may cause pelvic pain during sexual intercourse. This is true among both men and women.
Pelvic floor disorders are related to inguinal hernias. In essence, all are some form of pelvic floor dysfunction, weakness, defect, and they share the same genetic and other risk factors. It is not uncommon to have an inguinal hernia among women who already have known cystocele, rectocele, or other pelvic floor weakness. The reverse is also true.
Can it be Orthopedic?
Patients with orthopedic issues, such as disorders of the hip, tend to limp, shift their weight to the other leg, and have pain with certain activities involving the hip, such as running and yoga. Hernias do not cause a limp and patients in general bear weight equally, though in extreme pain, they may wish to favor the contralateral side. In such situations, a hip exam can be diagnostic. This is done by placing the patient in supine position and passively flexing and then rotating the hip internally and externally to assess for pain and restriction in range of motion. Patients with hernias should not have pain or any restriction in motion.
Can it be Neurologic?
This is a tricky one. Hernias, especially the occult ones that present without a bulge, may have a neuropathic component as their primary complaint. This is typically pain in the genitofemoral distribution (upper inner thigh, scrotum, labia) as this nerve can travel through the inguinal canal and be impinged by the herniating content. Ilioinguinal neuralgia-type symptoms may also be experienced, especially in larger hernias, due to the anatomic proximity of the nerve overlying the internal ring with impingement by its contents. Sometimes patients undergo direct nerve blocks in the groin region to address this problem. In my experience, we see an increase in their pain if they have an inguinal hernia, and a decrease in their pain if there is a true neuropathic injury as the cause of their pain. I believe the reason for the increase in pain is that the addition of local anesthetic results in volume and added pressure to an area that is already under pressure from the herniated content. In this case, further nerve blocks and even nerve ablations, etc., will not help and may cause further damage to the patient. I see a large number of patients that are initially sent to a pain management to undergo medical and percutaneous ablative techniques to address neuralgia, whereas the cause of their pain was an occult inguinal hernia. Almost all of these patients also had tenderness on examination and activity-related pain. It is important to note that ilioinguinal and genitofemoral neuralgia do not occur spontaneously or de novo. That would be extremely rare. They usually occur due to direct injury either surgically or from a traumatic penetration. Without this history, an inguinal hernia is the most likely cause of ilioinguinal or genitofemoral neuralgia.
You are now armed with all of my secrets on how to diagnose inguinal hernias! If the inguinal hernia is symptomatic or increasing in size, address all risk factors for hernia formation and consider surgical repair as an option.
For more extensive details about this specific topic, I invite you to read my book, The SAGES Manual of Groin Pain.
If you have questions about hernias and their related issues, go to www.HerniaTalk.com. This is a free discussion board with surgeons who contribute to answer your questions.
Finally, if you would like to have a consultation with me, either online or in person, go to for contact information.
Best,
Shirin Towfigh, MD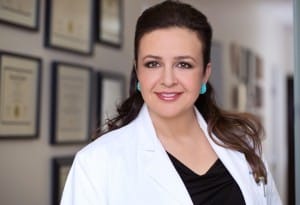 Renowned hernia specialist Dr. Shirin Towfigh is the only surgeon in the Western United States whose work is entirely dedicated to treating all types of abdominal wall hernias and their complications. Her rare focus on using all technologies and surgical modalities available in treating this particular area has made her possibly the nation's single most respected hernia doctor.
Dr. Towfigh's received her Bachelor's degree with College Honors from UCLA and her Medical Doctorate from UC San Diego. She completed her surgical training and research at UCLA in 2002 (ranked "Best in the West" for 24 straight years byUS News and World Report), and is board certified in General Surgery by the American Board of Surgery. As a respected medical professor, she has trained medical students, residents, and fellows in Minimally Invasive Surgery at the USC Keck School of Medicine, LA County + USC Hospital, and the Norris Cancer Center.
______________________________________________________________________________________________________________________________________
Are you unable to come see us in person? We offer virtual appointments!
Due to COVID-19, we understand people may prefer to utilize our services from their homes. We also understand that many people do not have access to pelvic floor physical therapy and we are here to help! The Pelvic Health and Rehabilitation Center is a multi-city company of highly trained and specialized pelvic floor physical therapists committed to helping people optimize their pelvic health and eliminate pelvic pain and dysfunction. We are here for you and ready to help, whether it is in-person or online. 
Virtual sessions are available with PHRC pelvic floor physical therapists via our video platform, Zoom, or via phone. The cost for this service is $75.00 per 30 minutes. For more information and to schedule, please visit our digital healthcare page.
In addition to virtual consultation with our physical therapists, we also offer integrative health services with Jandra Mueller, DPT, MS. Jandra is a pelvic floor physical therapist who also has her Master's degree in Integrative Health and Nutrition. She offers services such as hormone testing via the DUTCH test, comprehensive stool testing for gastrointestinal health concerns, and integrative health coaching and meal planning. For more information about her services and to schedule, please visit our Integrative Health website page.