By Molly Bachmann PT, DPT, Birth Doula, PHRC San Francisco, CA
Have you ever pulled into the driveway after a long day and suddenly had the urge to urinate? Like Five-Alarm Bell, clear the driveway sprinting to the bathroom to make it in time? You are not alone! You might have even heard of this term before, Latchkey incontinence. This is a type of urge incontinence that often occurs with specific triggers like:
opening the door to your home

hearing the sound of water running

stepping into the shower

the sound of rain
It is often called "overactive bladder" as it is a sudden, strong urge to urinate that is difficult to control followed by involuntary loss of urine. We understand how frustrating this can be to live with. Thankfully there is a solution → Pelvic Floor Physical Therapy!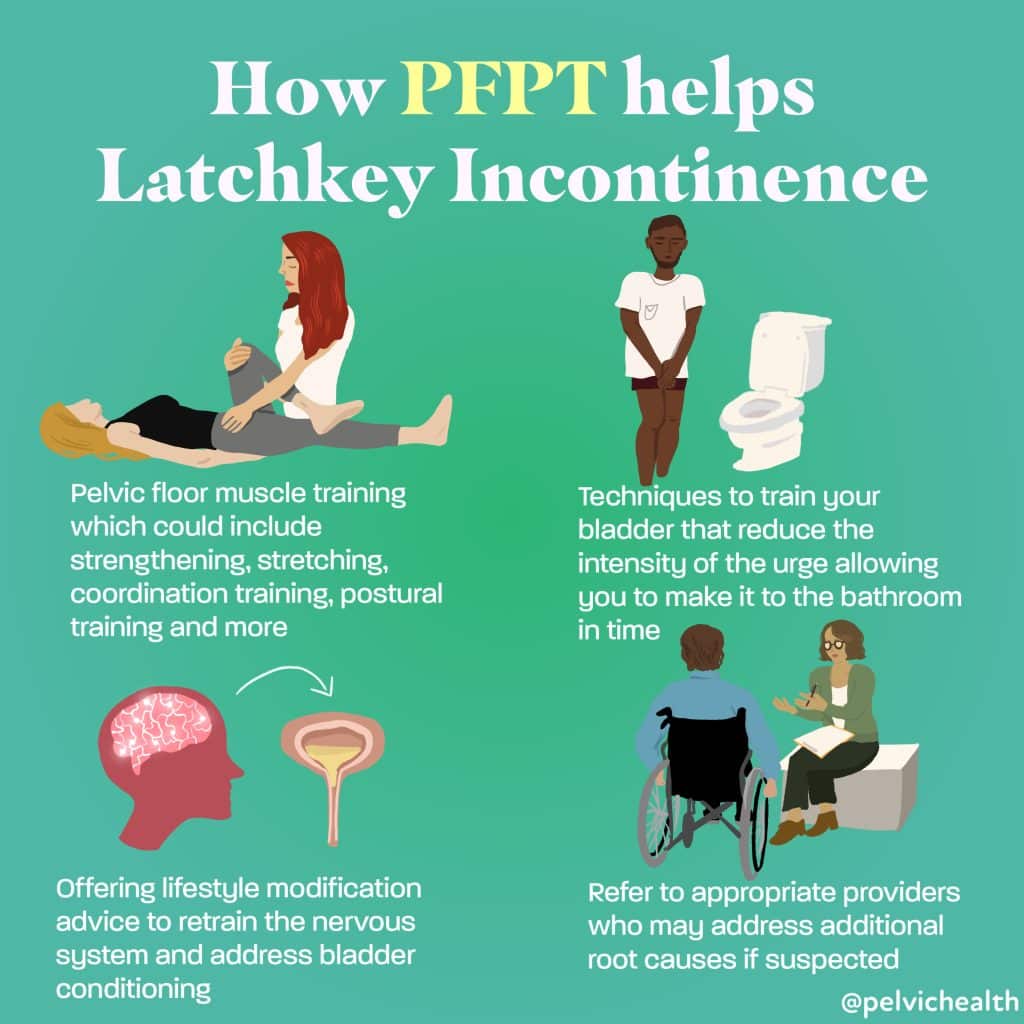 Pelvic Floor Physical Therapy can help Latchkey Incontinence by:
Training the pelvic floor muscles through strengthening, stretching, coordination training, postural training.

Addressing functional limitations throughout the body that are contributing to ineffective pelvic floor muscle activation.

Techniques to train your bladder that reduce the intensity of the urge allowing you to make it to the bathroom in time.

Discussing possible lifestyle modifications to retrain the nervous system and address bladder conditioning.

Utilizing referrals to specialists who can address other symptoms.
Stay tuned for more in next week's blog!
______________________________________________________________________________________________________________________________________
Are you unable to come see us in person in the Bay Area, Southern California or New England?  We offer virtual physical therapy appointments too!
Virtual sessions are available with PHRC pelvic floor physical therapists via our video platform, Zoom, or via phone. For more information and to schedule, please visit our digital healthcare page.
In addition to virtual consultation with our physical therapists, we also offer integrative health services with Jandra Mueller, DPT, MS. Jandra is a pelvic floor physical therapist who also has her Master's degree in Integrative Health and Nutrition. She offers services such as hormone testing via the DUTCH test, comprehensive stool testing for gastrointestinal health concerns, and integrative health coaching and meal planning. For more information about her services and to schedule, please visit our Integrative Health website page. 
Melissa Patrick is a certified yoga instructor and meditation teacher and is also available virtually to help, for more information please visit our therapeutic yoga page. 
Do you enjoy or blog and want more content from PHRC? Please head over to social media!