By Stephanie A. Prendergast, MPT , Cofounder, PHRC Los Angeles
Most people have not heard of term "Genitourinary Syndrome of Menopause" (GSM). One key reason is that the term did not exist until 2014, when leadership societies recognized that menopausal women were suffering from many more symptoms than just 'vaginal atrophy' and vaginal dryness. The expanded GSM term more accurately encompasses the gynecologic and urologic changes that all women will go through as menopause advances if left untreated. 
A few weeks ago I wrote about a blog explaining why there is so much mismanagement and confusion surrounding the safety of systemic hormone therapy, you can check out that post if you missed it.
Many people think of menopause as hot flashes, irritability, and insomnia. For many women these symptoms can be safely treated with systemic hormone therapy when started within the first nine years of menopause. These symptoms will get better over time and they will get better with hormone therapy.
Unfortunately the opposite is true for GSM. Without proper vaginal hormone therapy the degradation of the genitourinary tract will lead to pain, infections, and symptoms that comprise a woman's quality of life. The good news is safe and effective treatments are available, the bad news is too many people and medical providers are not educated about GSM management. We are hoping to help set the record straight!
Defining GSM
GSM is a collection of signs and symptoms due to estrogen and androgen deficiency affecting the labia majora, labia minora, vulvar vestibule, introitus, clitoris, vagina, urethra and bladder

Estrogen is a dominant regulator of vaginal and lower urinary tract

Estrogen receptor density highest in the vagina, decreasing density across external genitalia to the skin

Androgen density is the reverse: lower levels in the vagina, higher levels in the external genitalia
Here is a full chart made available from American Journal of Obstetrics & Gynecology.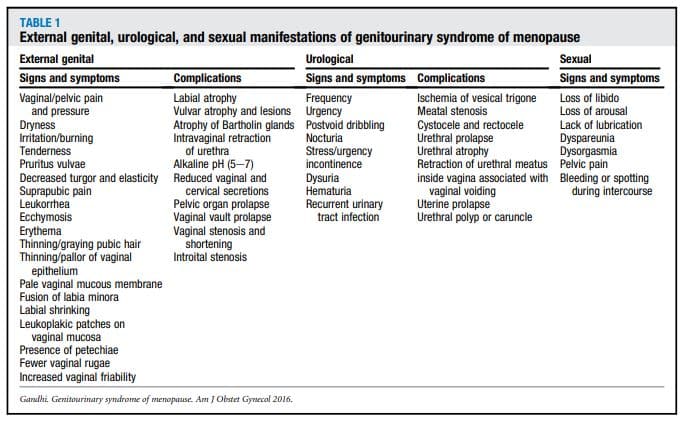 Why GSM Matters for Pelvic Floor Physical Therapy
The bothersome symptoms of GSM overlap with symptoms of pelvic floor dysfunction. In the first picture we list gynecologic and urologic GSM symptoms. The second picture uses red to show symptoms of GSM and pelvic floor dysfunction.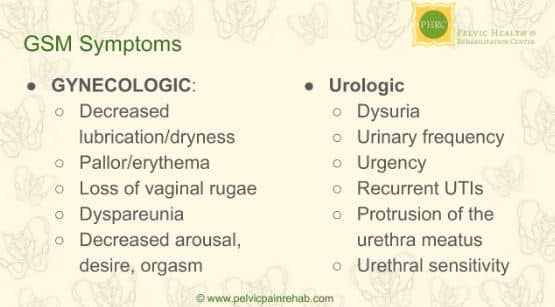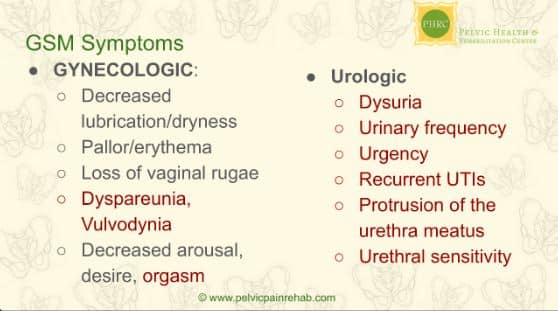 GSM is going to eventually affect every menopausal woman. Systemic hormone therapy is often not sufficient to help mitigate GSM symptoms, experts recommend locate vaginal hormone therapy. The updates guidelines are published in the 2022 North American Menopause Society's Position Paper [PDF].
Studies show that up to 70% of menopausal women suffer from pelvic floor dysfunction. Despite this high number, pelvic floor physical therapy is not always offered to menopausal women, just like vaginal hormone therapy may not be either. As are result we see people unnecessarily suffering from gynecologic pain, diminished or muted orgasm, irritative bladder symptoms and recurrent UTIs. 
This should not be the case! All women who have entered menopause should be counseled on systemic and vaginal hormone therapy and should undergo a pelvic floor physical therapy evaluation to optimize their pelvic health! We live ⅓ of our lives in menopause and we should not suffer.
But there's more…..
Hormone insufficiency can result in interlabial and vaginal itching. Other dermatologic issues such as Lichen Sclerosus and cutaneous yeast infections are just two of the many factors to also be considered.
Unfortunately people are vulnerable to recurrent vaginal and urinary tract infections in menopause due to:
pH and tissue changes

incomplete bladder emptying

pelvic organ prolapse compromising urinary function
Recurrent infections are a leading cause of pelvic floor dysfunction! They must be stopped or the noxious visceral-somatic input can cause further pain and dysfunction after the infection is cleared.  Furthermore, if the infections are  left untreated without hormone therapy infections continue to occur and the consequences can be severe. Woman can develop unprovoked pain, sex may be impossible, and undetected UTIs can lead to kidney problems and more sinister issues.
We encourage people to work with a menopause expert to monitor, prevent, and treat these issues as they are serious and treatable. We need to normalize the conversation about what happens during GSM, it is nothing to be embarrassed about and with the right care vulva owners can live their best lives! Pelvic floor physical therapy and medical management go hand in hand. 
Physical therapy can not undo hormone insufficiencies & we know the most effective treatment for people is a combo of medical management & PFPT. Need more medical evidence-based information? We recommend checking out:
Related Blogs:
Perimenopause Facts: It Starts Earlier than You Think
Midlife Sex Crisis: What Are My Perimenopause Options?
Patient Success Story: Dealing with Prolapse and Menopause
Hormonal Changes in Menopause and What You Can Do About It
______________________________________________________________________________________________________________________________________
Are you unable to come see us in person in the Bay Area, Southern California or New England?  We offer virtual physical therapy appointments too!
Virtual sessions are available with PHRC pelvic floor physical therapists via our video platform, Zoom, or via phone. For more information and to schedule, please visit our digital healthcare page.
In addition to virtual consultation with our physical therapists, we also offer integrative health services with Jandra Mueller, DPT, MS. Jandra is a pelvic floor physical therapist who also has her Master's degree in Integrative Health and Nutrition. She offers services such as hormone testing via the DUTCH test, comprehensive stool testing for gastrointestinal health concerns, and integrative health coaching and meal planning. For more information about her services and to schedule, please visit our Integrative Health website page. 
Melissa Patrick is a certified yoga instructor and meditation teacher and is also available virtually to help, for more information please visit our therapeutic yoga page. 
Do you enjoy or blog and want more content from PHRC? Please head over to social media!