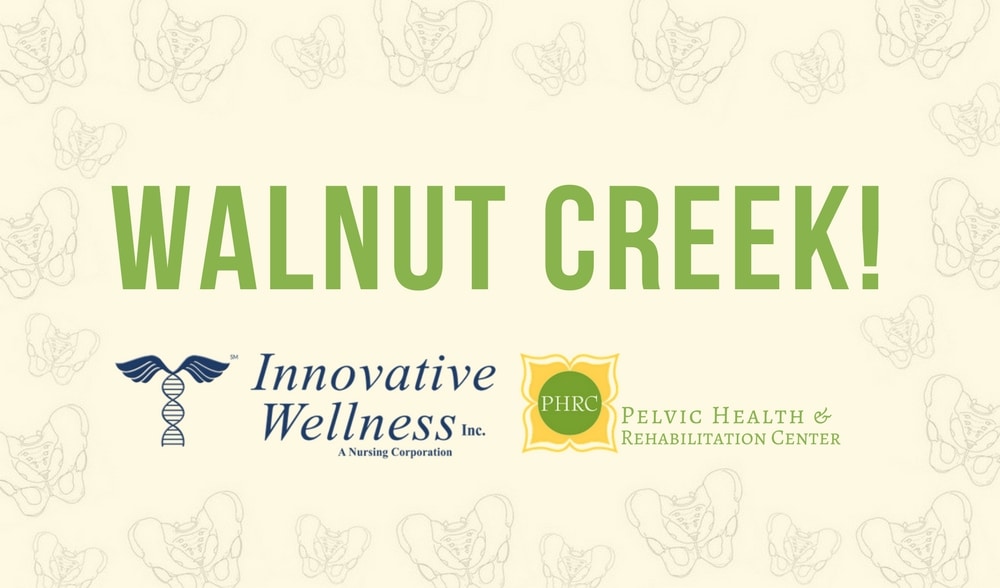 By Stephanie Prendergast
The Pelvic Health and Rehabilitation Center is expanding to Walnut Creek! We are excited for a unique opportunity to team up with Rachael Cabreira, RN, BSN, MSN, FNP-C and Certified Sexual Health Clinician inside her new private practice, Innovative Wellness. People who know us at PHRC know that we believe in coordinated, interdisciplinary care for our patients and now, in Walnut Creek, patients can get a range of pelvic health services under one roof. Melinda Fontaine, DPT, current Director of PHRC Berkeley, is going to be working alongside Rachael in the new Walnut Creek location. In this week's blog we share a little about Rachael herself, the inspiration behind Innovative Wellness, and why PHRC decided to join her team.
A little about Rachael Cabreira, RN, BSN, MSN, FNP-C and Certified Sexual Health Clinician…..
Rachael was awarded her:
B.S. in Nursing and her Minor in Psychology from Dominican University of California in San Rafael in 1998

M.S in Nursing, from San Francisco State University in 2006 specializing  in women's health

Post-Masters in Midwifery from University of Cincinnati in 2009

Sexual Health Certification from the Academy of Anti-Aging Medicine
Rachael has been practicing for over 19 years, specializing in obstetrics, infertility, urogynecology, and pelvic and sexual health. Just wow!
Noticing the need.
Over the course of her career, Rachael was not afraid to tackle challenging pelvic health cases. She realized that other providers were less interested in these topics and worked hard to seek out collaboration with like-minded providers. She developed expertise in the underserved arena of pelvic health and wanted to create a practice specifically designed for patients needing specialized pelvic health services.
The decision to team up with PHRC.
Rachael shares a quick little secret…. "I intimately fell in love with PHRC years ago because of their expertise and passion to care for patients that have debilitating symptoms that impact their quality of life.  Through collaboration with PHRC I learned they understand the pathophysiology, causative, and risk factors for these diagnoses. However, what really stood out was that they strive to understand the whole person,  psychosocially, and intimately. This mirrors the relationships I have with my patients, offering a holistic, integrative approach to medicine. It is my belief that lifestyle is truly the most powerful medicine, and must be the driving force that empowers better healthcare."
Diagnoses like pelvic pain, urinary incontinence, painful intercourse, post-partum pelvic pain, and other pelvic floor dysfunction symptoms, impacts not only quality of these patients lives, but their intimate relationships with themselves and others.
With Innovative Wellness and PHRC collaborating together, we will be able to offer a strong unified level of care to promote optimal quality of life.
Why Walnut Creek?
Rachael was born and raised in Walnut Creek, California and has spent her professional care in the Bay Area. She believes that to best serve the community one must be a part of the community. She wants to bring trusted services and compassion to the area she grew up in, lives in, and loves. She and her husband are currently raising their 3 children in Walnut Creek.
"Walnut Creek is home, it has raised me, it has nurtured me, and it is part of my heart, my comfort. I have seen Walnut Creek go through many changes of growth, but still the unique comfort of love remains. I feel like Walnut Creek is the "mamma" of the Bay Area, it has set presence, and the people within strive to support not only each other but the surrounding communities as well. Having my practice in Walnut Creek, symbolizes the uniqueness and vision of Innovative Wellness to support not only our community in Walnut Creek, but the Bay Area and beyond. The vision and mission that Innovative Wellness strives to provide promotes services, resources, and collaboration with a wealth of experts to provide wellness not only individually, but enhancing healthy relationships in families, spouses, and friendships."
A little fun fact:
Melinda Fontaine and Rachael both went to Carondelet High School in Walnut Creek.
Like Rachael, Melinda was also born and raised in Walnut Creek, and it is the place she is raising her own family today. Melinda shares, "I enjoyed growing up in the East Bay so much that I moved back here with my husband and son. Walnut Creek has grown a lot, and it has turned into a hub for services, such as healthcare. I am happy to be working amongst a wealth of practitioners and to be providing access to our services for a growing population."
PHRC, Innovative Wellness and Pelvic Health
Innovative Wellness and PHRC together will offer services and programs unlike any other. The mission of both teams is to not only provide pelvic healthcare but to also set the standard of care that patients and their families deserve. We are currently in a healthcare crisis in the United States and we are going to continue to work hard to provide efficient and compassionate care despite these circumstances. Both practices devote significant time to helping patients navigate the healthcare system and helping to coordinate their treatment plans, which is necessary in today's healthcare climate.  In order to provide the highest quality of care we must stay current with the latest research and technology, and we work hard weekly to make sure we are up to speed. As specialists, we are often able to help when other providers could not. In the event we cannot help, our promise is that we stay with the patient until they are connected with the medical professional that can.
Digging deeper: Nonsurgical, holistic services and programs offered at Innovative Wellness and PHRC.
Uro-Gynecology: female urinary incontinence and pelvic health

Urinary incontinence

urinary tract infections

pelvic organ prolapse

vulvovaginal atrophy and vulvovaginal health maintenance

pelvic pain

painful intercourse

Pelvic Floor Physical Therapy for men and women

Pelvic pain syndromes: Vulvodynia, Interstitial Cystitis, Pudendal Neuralgia, Chronic Pelvic Pain Syndrome, Vaginismus

Management of low-tone pelvic floor disorders: pelvic organ prolapse, stress and urge urinary incontinence, fecal incontinence

Peripartum pelvic health needs

Post-surgical rehabilitation: post-prostatectomy urinary incontinence and erectile dysfunction, pelvic reconstruction and hysterectomy

Bioidentical hormone management for men and women

Sexual health counselling services for men, women, and couples

Breast Cancer Survivorship for women suffering with vulvovaginal atrophy and pelvic pain

Protein-Rich Platelet [PRP] Services: sexual health and pelvic pain

Lifestyle, fitness and nutritional services
Call us to schedule and stay connected on social media!
All of us at PHRC are thrilled we are expanding into Walnut Creek and for this opportunity. If you are interesting in scheduling with Melinda please contact us (our Berkeley staff is helping out for now until the Walnut Creek construction is complete). To schedule with Rachael, please contact Innovative Wellness. Please share our post and help us spread the word!
PHRC's social media links are in this blog, as always. To connect with Innovative Wellness check them out on Facebook, Twitter, and Instagram!