By Stephanie A. Prendergast, MPT, Cofounder, PHRC Los Angeles
Diastasis recti can be caused by various reasons, some of which can affect one person more than the next. The integrity of our connective tissue is genetic. However, external factors also play a role in who may develop a DR. It is important to note a few things about each cause:
it is normal to have DR occur during pregnancy

knowing how to lift properly is important for your entire body

changes to hormones change the integrity of musculoskeletal tissue

learning to control changes in intra abdominal pressure, effective motor control of abdominal and pelvic girdle muscles are key to reducing symptoms

identifying the root cause of bloating and constipation in your body will inherently improve your body's ability to control "core" muscles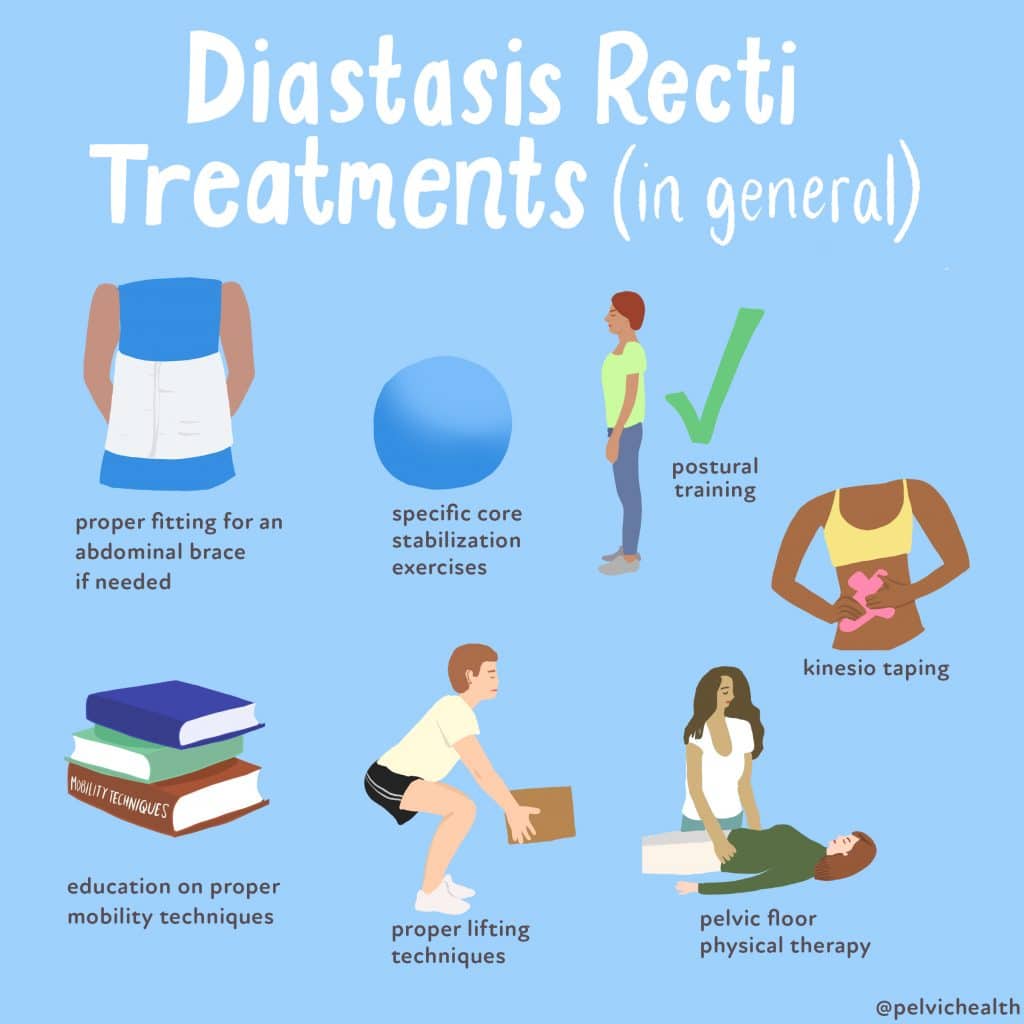 If you suffer from a diastasis recti and have not been assessed by a pelvic floor physical therapist, start there! Diastasis recti affects our overall core function, which includes the pelvic floor.
In order to get everything working together again one should undergo an internal pelvic floor assessment as well as an external pelvic girdle exam. During their evaluation, the physical therapist will be able to identify functional and structural impairments that may be contributing to ongoing symptoms, and can either help you to continue to improve your function, or have the resources to refer you to a surgeon if conservative approaches have been exhausted.
Everyone's body is different which is why an evaluation is so important; to make sure you are doing the proper treatments for your specific needs!
As the old saying goes, the hip bone is connected to the leg bone….here we talk about overlapping conditions that affect our comfort, support for pelvic organs, and urinary, bowel and sexual function! Diastasis Recti is ASSOCIATED with:
pelvic floor dysfunction

pelvic organ prolapse

pain

bladder leaks

bowel trouble
It is important to know that DR does not necessarily cause these things and these impairments can exist in people without diastasis recti too. When we assess our patients we figure out which impairments are tied to their symptoms and we come up with a plan to improve function. Diastasis Recti is just one important piece of the puzzle!
______________________________________________________________________________________________________________________________________
Are you unable to come see us in person in the Bay Area, Southern California or New England?  We offer virtual physical therapy appointments too!
Virtual sessions are available with PHRC pelvic floor physical therapists via our video platform, Zoom, or via phone. For more information and to schedule, please visit our digital healthcare page.
In addition to virtual consultation with our physical therapists, we also offer integrative health services with Jandra Mueller, DPT, MS. Jandra is a pelvic floor physical therapist who also has her Master's degree in Integrative Health and Nutrition. She offers services such as hormone testing via the DUTCH test, comprehensive stool testing for gastrointestinal health concerns, and integrative health coaching and meal planning. For more information about her services and to schedule, please visit our Integrative Health website page. 
Melissa Patrick is a certified yoga instructor and meditation teacher and is also available virtually to help, for more information please visit our therapeutic yoga page. 
Do you enjoy or blog and want more content from PHRC? Please head over to social media!