By Stephanie Prendergast, MPT, Cofounder, PHRC Los Angeles
Welcome 2022, goodbye 2021! It's been another year full of changes for Pelvic Health and Rehabilitation Center. With the start of the new year, we would like to acknowledge all of the changes that have occurred both virtually and in person.
Last year…..
Social Media Expansion and Engagement
With our ever increasing audience, we wanted to share some wins through social media! Our

Youtube channel

hit 3k subscribers, our

Instagram page

flew over 30k followers, and recently

new Tiktok

is creeping towards 6k followers! We thank you for your support and for helping us spread the word about pelvic floor physical therapy and pelvic health!
We welcomed many new faces to the PHRC team!

Jennifer Keesee, DPT – Westlake Village

Anna Lukasik, PT, MSPT – Walnut Creek and Berkeley, CA

Jillian Ramos, PT, DPT, MFDc  – Berkeley, CA

Lauren Opatrny, PT, DPT – San Francisco and Berkeley, CA

Caitlynn McCollum – Lexington Administrative Assistant

Jennifer Guan, DPT – Los Gatos, CA

Melissa Patrick, PT, DPT  – Merrimack, NH and Lexington, MA

Erin Hardiman, PT, DPT – Los Angeles, CA

Lorena Rios, DPT – Los Angeles, CA 

Krystyl Jenkins – Merrimack, NH Administrative Assistant 

Sabrina Dickerson– Los Angeles, CA Administrative Assistant
Some of our projects finalized!
Our Berkeley office moved locations- 2855 Telegraph Avenue, Ste 301, Berkeley, California 94705!
We celebrated our 15 year anniversary!  Yes, you read that right!
We've been in the pelvic health field with Pelvic Health and Rehabilitation Center for 15 years. We've opened offices across multiple states,

published a book

and continued our dedication to the field.
Expansion to Pasadena, FINALLY and after a two year delay, thanks to COVID… we were thrilled to open our doors to the new clinic January 4, 2022!
If you know us, you know that we are very passionate about pelvic health and we work hard to share our knowledge via different platforms. 
We were featured as guests on quite a few

podcasts

!
We hosted numerous

Instagram Lives

with other specialists!
We were apart of numerous

education seminars!

Cofounder Stephanie Prendergast and PHRC Encinitas Clinic Director Jandra Mueller presented The Physical Therapist's Role in Treating Endometriosis with Amy Stein, PT, in March 2021

Cofounder Stephanie Prendergast presented in Wise Menopause, in March 2021
We launched two

new virtual services!
Announcing Virtual Pregnancy + Postpartum Pelvic Health Services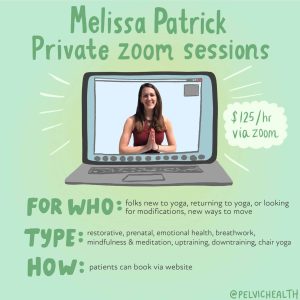 The Year of the Tiger!
As we head into the Year of the Tiger we are looking forward to new projects and goals. After taking a break because of Covid, we are excited to announce that PHRC is returning to Kenya in late 2022 to continue to educate physical therapists about pelvic floor physical therapy!
We are moving our Encinitas clinic into a larger space and expanding our services to include therapeutic pilates in that location!
Stephanie, Liz and Jandra are taking their pelvic pain courses online and will be hosting in-person lab sessions!
Psst….a second edition of Pelvic Pain Explained is on the horizon with updated success stories and the latest research on management of pelvic pain syndromes!
We are expanding in New England!
And finally, we are looking forward to launching an online educational program for patients, called PHRConnection.
We are so looking forward to all of these things as we carry out the PHRC mission and vision!
______________________________________________________________________________________________________________________________________
Are you unable to come see us in person in the Bay Area, Southern California or New England?  We offer virtual physical therapy appointments too!
Virtual sessions are available with PHRC pelvic floor physical therapists via our video platform, Zoom, or via phone. For more information and to schedule, please visit our digital healthcare page.
In addition to virtual consultation with our physical therapists, we also offer integrative health services with Jandra Mueller, DPT, MS. Jandra is a pelvic floor physical therapist who also has her Master's degree in Integrative Health and Nutrition. She offers services such as hormone testing via the DUTCH test, comprehensive stool testing for gastrointestinal health concerns, and integrative health coaching and meal planning. For more information about her services and to schedule, please visit our Integrative Health website page. 
Melissa Patrick is a certified yoga instructor and meditation teacher and is also available virtually to help, for more information please visit our therapeutic yoga page. 
Do you enjoy or blog and want more content from PHRC? Please head over to social media!