By Stephanie Prendergast, MPT, Cofounder, PHRC West Los Angeles
Did you know that June is Men's Health Awareness Month? To follow up that month, we wanted to update the resources we have for Pudendal Neuralgia. Below you will find the latest and greatest information both in blog and video format! We compiled information from guest speakers, Do's and Don'ts, yoga poses to alleviate pain and much more! 
YouTube
Tips on Managing Your Pudendal Neuralgia Symptoms 
Cushion info to improve sitting comfort
Pregnancy & Pudendal Neuralgia | A Conversation With Dr. Mark Conway, Gynecologist
A Conversation on Pudendal Neuralgia With Dr. Mark Conway, Gynecologist
How to Handle Pregnancy AND Pudendal Neuralgia
Pelvic Pain Explained Webinar Part 5: Pudendal Neuralgia by Stephanie Prendergast
Instagram
Interview with Dr. Conway– Pudendal Neuralgia and Pudendal Nerve Entrapment; a discussion about comprehensive diagnosis and treatment.
3 Poses, 3 Ways for Pudendal Neuralgia– Melissa covers 3 poses, using props for variations, to help you design a practice that meets your body where it is today. These pose variations are designed to relieve tension in the posterior chain and may provide relief for those working with symptoms of pudendal neuralgia.
Yoga for Pudendal Neuralgia- Working with neuropathic symptoms around the genitals, anus or perineum? Allow Melissa Patrick, PT, DPT, RYT to guide you through an exploration of movements to find relief and ease in the entire body.
Therapeutic Backbends for Pudendal Neuralgia– Let's open through the front line of the body to reduce tension along the posterior chain. These supportive and gentle backbends can be a great way to reduce strain & stretch along the pathway of the pudendal nerve. Backbends have other benefits, too! They help us to breathe more deeply by improving recruitment of the diaphragm. The better belly breaths we can get, the more our pelvic floor can lengthen and relax. Not to mention, deep breathing helps to calm our nervous system and induce physiological quieting. Finally, backbends have a natural antidepressant effect! Because backbends activate the heart, they invigorate and uplift the mood. Happy heart opening! 
Top Blog Posts on Pudendal Neuralgia
How do I know if I have Pudendal Neuralgia or Pudendal Nerve Entrapment?
The Role of Physical Therapy in Treating Pudendal Neuralgia
Pudendal Nerve Entrapment: your questions answered part 1
Pudendal Nerve Entrapment: your questions answered part 2
Second Look at Pudendal Neuralgia
Pudendal Neuralgia: Interdisciplinary Conversations from IPPS 2015
Success Stories
Recovered From Pudendal Neuralgia: Sheyoume's Success Story
Why Does the Area Between My Balls and My Butt Hurt? Tyler's Male Pelvic Pain Success Story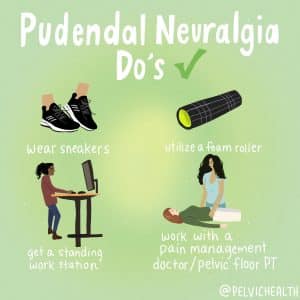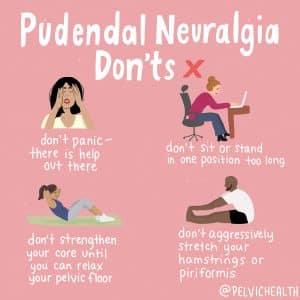 Self Treatment Tools
Foam roller – use the code 'PHRCROLL' on the IntelliRoll website for a 10% discount today! 
______________________________________________________________________________________________________________________________________
Are you unable to come see us in person? We offer virtual physical therapy appointments too!
Due to COVID-19, we understand people may prefer to utilize our services from their homes. We also understand that many people do not have access to pelvic floor physical therapy and we are here to help! The Pelvic Health and Rehabilitation Center is a multi-city company of highly trained and specialized pelvic floor physical therapists committed to helping people optimize their pelvic health and eliminate pelvic pain and dysfunction. We are here for you and ready to help, whether it is in-person or online. 
Virtual sessions are available with PHRC pelvic floor physical therapists via our video platform, Zoom, or via phone. For more information and to schedule, please visit our digital healthcare page.
In addition to virtual consultation with our physical therapists, we also offer integrative health services with Jandra Mueller, DPT, MS. Jandra is a pelvic floor physical therapist who also has her Master's degree in Integrative Health and Nutrition. She offers services such as hormone testing via the DUTCH test, comprehensive stool testing for gastrointestinal health concerns, and integrative health coaching and meal planning. For more information about her services and to schedule, please visit our Integrative Health website page. 
Do you enjoy or blog and want more content from PHRC? Please head over to social media!
Like us on Facebook,
Subscribe to our YouTube Channel,