The tailbone (also known as the coccyx) is often dismissed by some as a vestige of our prehistoric ancestors. Whether or not that is true, this is a bone that we need to examine further in order to appreciate. Not only is it a major attachment site for the pelvic floor muscles, but it can also become a huge source of discomfort if injured. More often than not a patient will tell me that they hurt their tailbone and went to see a doctor, only to be given a donut cushion and sent on their way. This is not the way to effectively manage and resolve tailbone pain, but I am getting ahead of myself…
First, let's learn the anatomy: The coccyx extends off of a large triangular bone at the base of the spinal column called the sacrum. It is made up of 3 to 5 bony segments which are connected to each other by ligaments, joint capsules, and fascia. There is a nerve that runs through the coccyx called the sacrococcygeal nerve which innervates the skin above the coccyx and sacrum. The tailbone serves as a bony attachment site for the entire deep layer of pelvic floor muscles (levator ani) and some of the superficial layer muscles (urogenital diaphragm) as well.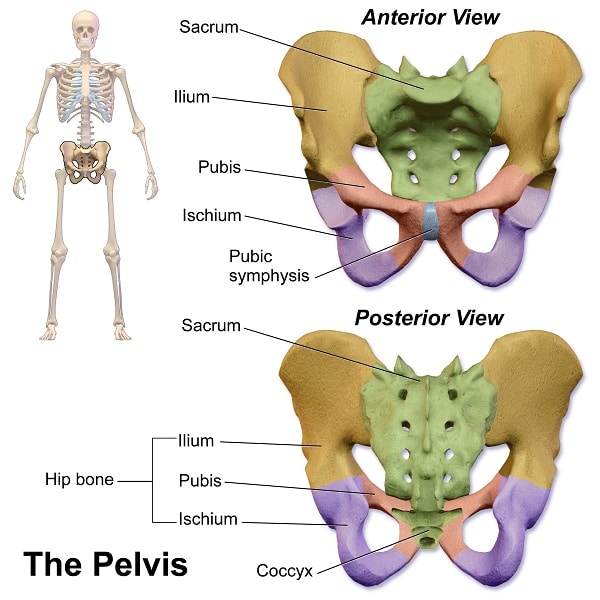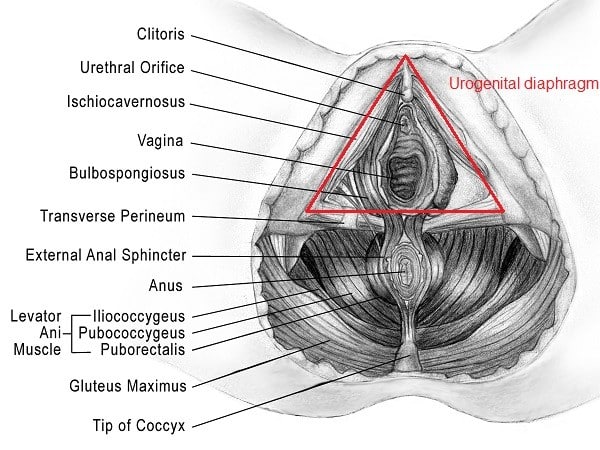 (Check out these blogs for a more in depth look at pelvic anatomy: male/female)
The tailbone is dynamic- as we contract our pelvic floor muscles the tailbone is flexing and extending in response. When we sit (especially when we slouch (and who doesn't)) the tailbone becomes a weight bearing structure and when we have a bowel movement (or a more extreme scenario: give birth) the tailbone has to extend to allow evacuation through the pelvic canals (vagina and rectum).
Tailbone pain often feels dull and achy in the area between the gluteal cleft and above the anus but can also become sharp in certain situations (e.g sitting, sit to stand, lying on back). Bowel movements, penetrative sex, and orgasm can also be a source of aggravation for the tailbone. In my experience, I often find that people start having symptoms of tailbone pain but don't seek medical attention right away because they figure that it should eventually pass…and sometimes it does. However, since the tailbone is a common attachment site for so many of our pelvic floor muscles it never really gets a break; therefore tailbone  issues can develop into a persistent situation that can have a substantial effect on quality of life.
Here are some common causes of tailbone pain (coccydynia):
A direct blow to the tailbone (i.e. fall, contact sports)

Childbirth: during delivery, the baby's head is positioned against the coccyx, and the pressure created during labor and pushing can result in injury to the tailbone and its surrounding structures. In rare cases, the coccyx can fracture.

Repetitive/prolonged stress against the coccyx (i.e. cycling, rowing, prolonged sitting)

Sometimes, the cause of coccyx pain is unknown (also known as idiopathic coccydynia)

Less common causes of coccydynia includes bone spurs, cysts, compression of nerve roots, remote spinal injuries, local infections, and tumors. These should all be ruled out by a physician, especially if there is no clear mechanism of injury.
If you have had, or are currently experiencing, tailbone pain you can understand how troublesome it can be to deal with. It is not a part of our body that can be easily avoided and it can be difficult to access. One reason that tailbone pain can present and persist is due to pelvic girdle/sacroiliac joint bony alignment/misalignment. As we learned earlier, the tailbone forms a joint with the sacrum and becomes an attachment point for many pelvic structures. Not only can problems stemming from the sacroiliac joint give the illusion of tailbone pain, but two of our strongest pelvic ligaments (the sacrospinous and sacrotuberous ligaments) originate just above the sacrococcygeal joint (where the sacrum meets the tailbone) and can cause perceived tailbone pain when irritated.
Another reason that this symptom can become such a difficult-to-treat issue is because of relationship of the pelvic floor muscles and their physiological function. In a situation where we've had a direct blow to the tailbone, like a fall, there is likely a build up of inflammation in and around the bone causing a deep bruise feeling. And every time the pelvic floor muscles contract, they are tugging on the tailbone causing further irritation. This irritation then alerts the brain that there are injurious stimuli, which then cause the pelvic floor muscles to over-engage, become hypertonic, and develop trigger points. Thus, begins the vicious cycle of muscle dysfunction due to pain, a pattern that then leads to more muscle dysfunction and pain.
There are also cases in which the tailbone pain occurs either gradually or suddenly with no obvious cause. This can be due to tight pelvic floor muscles that are tight for any number of reasons: stress, previous injury, desk job, a combination of these, et cetera. It is in cases like this that the pelvic floor muscles become tight, which then pull on the tailbone and present as tailbone pain. In these cases, the tailbone is often not even painful to palpation, however if you were to palpate one of the adjacent pelvic floor muscles attaching to the coccyx (e.g. coccygeus, iliococcygeus, pubococcygeus) there is tenderness, hypertonus, and trigger points that may even directly reproduce the "tailbone" pain. This is a very common presentation that we see at PHRC.
So, I want to lay out some ideas on what to do if you are experiencing tailbone pain:
Rest: Minimize situations where you are going to be taxing the tailbone (sitting, standing for long periods, cycling). Use a cushion for sitting and try lying on your side or face down to allow plenty of blood flow to travel through the area. Here are some links to my favorite cushions:
Ice: Especially if you recently sustained a direct blow injury to the tailbone. Ice helps to constrict the blood vessels in the area and reduce inflammation. Heat is something you can also use but if it is within the first 2 weeks of injury stick with ice to flush the inflammation away from the injury site.*
Anti-inflammatories: This one you have to first discuss with your physician, but taking anti- inflammatory medication can be a huge help to interrupt the inflammatory cycle.
Roll: Use a tennis ball and roll some of the larger hip muscles-these muscles can tighten up in the presence of tailbone pain and cause further reduction of blood flow and pain. The best way to start with this is to lean back against a wall and place a tennis ball between your buttock and the wall. Gently use your bodyweight to apply pressure and roll on the tennis ball looking for sore spots. When you find a sore spot, hold and breathe until you feel a decrease in soreness intensity.
Schedule with a pelvic floor physical therapist: Because the pelvic floor muscles are so often involved with tailbone pain, it is important to schedule with a pelvic floor physical therapist sooner rather than later. Here are two previous blog posts on what to expect from a good pelvic floor physical therapy session.
**A common misconception that we hear regularly, is that the tailbone may be "out of place" or that it needs to be adjusted. It is true that tight pelvic floor muscles can have such a strong influence on the tailbone that they can actually pull it into a lateral bend, however, the root of the problem in this situation stills lies with the pelvic floor muscles. There are specific instances where the tailbone position may be affected due to a direct blow or childbirth and that is best identified through X-ray imaging. In these cases the tailbone may heal in the new position and will need to be assessed by your practitioner.
Tailbone pain is unfortunately one issue that can be mismanaged and overlooked within the medical community. However it can wreak absolute havoc on those of us having to deal with it on a daily basis.  With these tips and resources you should have a better idea of where to start managing your tailbone pain in both the short and long term. This blog is here to give you hope that you can and will get better and you are not alone.
Additional resources:
International Pelvic Pain Society
American Physical Therapy Association
*When using ice or heat be sure to set a timer and give your skin a break every 20 minutes
______________________________________________________________________________________________________________________________________
Are you unable to come see us in person? We offer virtual appointments!
Due to COVID-19, we understand people may prefer to utilize our services from their homes. We also understand that many people do not have access to pelvic floor physical therapy and we are here to help! The Pelvic Health and Rehabilitation Center is a multi-city company of highly trained and specialized pelvic floor physical therapists committed to helping people optimize their pelvic health and eliminate pelvic pain and dysfunction. We are here for you and ready to help, whether it is in-person or online. 
Virtual sessions are available with PHRC pelvic floor physical therapists via our video platform, Zoom, or via phone. The cost for this service is $75.00 per 30 minutes. For more information and to schedule, please visit our digital healthcare page.
In addition to virtual consultation with our physical therapists, we also offer integrative health services with Jandra Mueller, DPT, MS. Jandra is a pelvic floor physical therapist who also has her Master's degree in Integrative Health and Nutrition. She offers services such as hormone testing via the DUTCH test, comprehensive stool testing for gastrointestinal health concerns, and integrative health coaching and meal planning. For more information about her services and to schedule, please visit our Integrative Health website page.