By Admin
Disclaimer: I'm a PT and a Pilates instructor.  Often, patients ask if Pilates is the answer for their pelvic floor dysfunction.  You know that old saying, "Kegel-ing all day, keeps the urine at bay."  Well, unfortunately, this is not always true.  At times Kegel-ing can make actually make your symptoms worse, be it urinary urgency, frequency, incontinence or pain!  Sometimes these type of symptoms are due to the pelvic floor muscles being too contracted.  Since a Kegel is a contraction of your pelvic floor muscles, you can see how contracting muscles that are already too contracted may exacerbate symptoms.  Take a look at Liz's post to get a little more info. 
So, since that's a bit more settled let's get to the purpose of this post: Pilates exercises for the short/tight, or in other words, too contracted pelvic floor.  Pilates provides a breadth of repertoire that focuses primarily on contracting or "up-training" pelvic floor muscles along with the rest of the "core" to do certain movements.  However, even though all of pilates repertoire may not be appropriate for all people, there are some helpful themes and sequences that can be beneficial when performed safely and precisely.
Since most of pilates is uptraining, i.e. tightening your pelvic floor muscles, I'm going to first introduce some downtraining exercises, i.e. lengthening/relaxing your pelvic floor, as a baseline for movement.  I found in teaching that starting from this baseline actually improves students understanding of the pelvic floor and success in the practice.  Also, it challenges the assumption that most of us have loose/weak pelvic floors that we need to strengthen, when the actual problem is lack of awareness (*more on this later blogs).
Please note: Although these exercises are primarily directed towards those with tight or hypertonic pelvic floor musculature they can provide awareness training for any pelvic floor, big or small, tight or loose, weak or strong.
Disclaimer:  None of these exercises should increase pain or symptoms.  Feel free to limit the range of motion/movement to what is tolerable and outside of pain.  If you are unsure please seek advice from your physical therapist or a rehabilitation pilates professional who has experience with pelvic pain.
Since most of us don't have pilates studio in our house I'll be going through some exercises that can be done at home on a yoga mat and with small props as necessary.  Considering setting aside ~ 10 minutes to give yourself the time to focus and experience the exercises.
Breathing
Purpose: improve awareness of breath and mobility of the body when breathing
Start lying on your back with your knees bent feet flat on the floor with shoulders broad and palms turned up.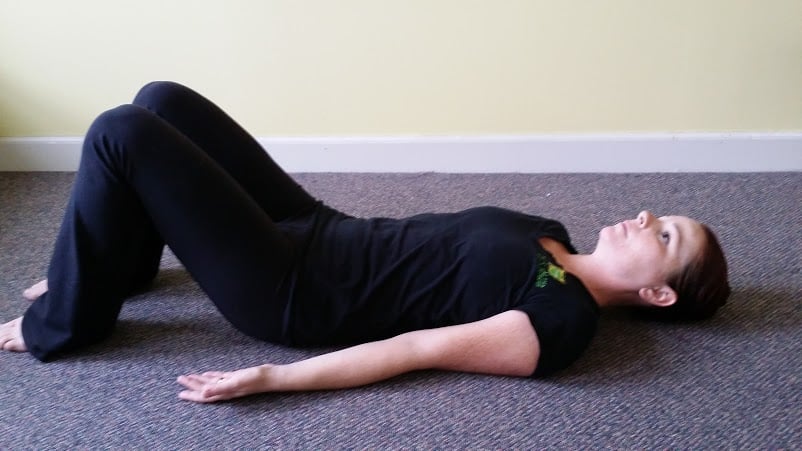 Feel the weight of your body on the floor and sense your breath moving in your body.  As you inhale feel the rise and as you exhale feel the fall.  Where does the breath go?  Just observe this for a few moments…for many people this movement happens at the collar bone and upper chest, for others it's softly in the belly or sometimes even shared between both areas.  Now we are going to send the breath into other areas.
Do you know how big your lungs are?  Do you know they are not only in the front but in the back too?  They are actually longer on the sides and in the back then they are in the front.   
See if you can breathe wide, try putting your hands on the sides of your rib cage and feel the movement, wide and down into your fingers.  Try this for a bit…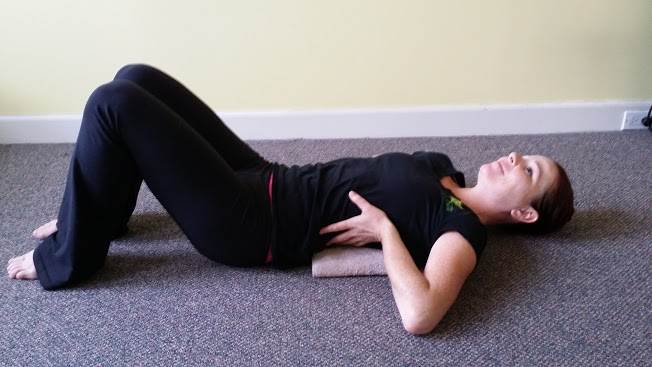 Now see if you can breathe back, try putting your hands or a small folded towel behind your midback to feel the movement of your back ribcage.  Some imagery that can be helpful here: Imagine you are creating deep groves in the sand with the expansion of your rib cage and it washes away as you exhale…or the imagine your back ribs are like the wings of a lady bug that are lifting and lowering.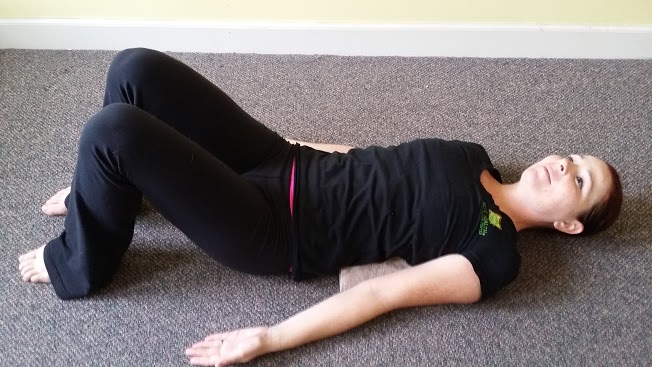 Get the idea, there is so much movement in the rib cage that we barely even use.
Now we are going to try some belly breathing.  Same start position.  But place your hands on belly.
Inhale wide and easy.  Just follow where the breath goes.  Which hand moves more?… See if you can allow the bottom hand to fill up a little more, like a big Buddah belly.  Try this for a couple breaths…as you feel like you can fill up your belly, can you send the breath a little lower, just down to your pubic bone.  Allow the breath to flow all the way down to your belly and pelvis then back up again.  Easy inhale, easy exhale.  Now you may feel some movement in your low pelvis.  With your inhale, feel an easy stretch of your pelvic bowl (i.e. your anus, or vagina or scrotal area), and with you exhale, feel an easy recession.  No problem if you don't sense anything right away, just keep breathing.  If you do feel this easy stretch then see if you can start sending you breath down and wide towards your perineum between your sit bones.  You can try sending it more towards the front- vagina/ base of the penis, or towards the back- anus.  Just allow it to be easy.  Continue for 5 minutes or so.
Take a moment just to feel if the ease or tension has changed in your body and specifically in your hips and pelvic floor area.
Pelvic Clocks
Purpose- to improve awareness and mobility of the pelvis, hips, lower back and related muscles, i.e. pelvic floor muscles.
Pelvic clocks are used in many exercise regimens, whether you know it or not.  You can do this exercise on your back with your feet flat on the ground, broad shoulders, palms on your hips.
NEUTRAL
Essentially the idea is to move you pelvis in a full circle, or through all the numbers of the clock.  Let's get started.  Feel your pelvis resting on the ground beneath you.  Feel the heaviness of the right back pelvis and the left back pelvis.  Feel where you pelvis starts to make contact at the base of your sacrum, and where it curves away, at your tailbone.  Generally you want to be in your "neutral" or "neutral zone" where you are evenly balanced right to left and forward to back.
Now see if you can start rocking your pelvis easily forward and backward.  Slowly rock your tail under, feel your low spine press into the ground and your tail lift a little.  This position in Pilates is called an "imprint" or "flat back."
EASY ROCK BACKWARDS, "IMPRINT"
DON'T SQUEEZE BOTTOM, KEEP IT EASY AND SOFT
Slowly start to rock you pelvis the other direction, past your start position, you may feel your low back pull off the floor even more. Go slow and easy.
STICK BOOTY OUT A LITTLE, PELVIS WILL TIP FORWARD, LOW BACK WILL COME OFF FLOOR
Continue to go slowly and easily between these two positions, ideally your legs, feet and buttocks are relaxed and you feel as if your bones are just rocking back and forward.  Let's call the "imprinted" spine 12 o'clock, and the booty out position 6 o'clock.  So now you're rolling easy between 12 and 6 slowly and comfortably.  Start with only doing about 5 or so.
Now pause in the middle of 12 and 6, so you're back to your start position, or perhaps at the center dial of your clock.
Slowly tip your pelvis over to the left, your 3 o'clock.  You should feel weight come off of the back right pelvis, and become heavy on the back left pelvis.
Then slowly come back to the center.  Now, tip your pelvis slowly over to the right, to your 9 o'clock.  You should feel weight come off of the back left pelvis, and become heavy on the back right pelvis.
Now you've got your clock 12, 6, 9, 3.  Try going slowly and easily up and down and side to side, don't be too forceful with it, just imagine your bones are moving and your muscles are easy and quiet.  See if you can let your legs and feet relax so you're only moving your pelvis.
If your still not sure take a look at this video.
Once you try this 4-5 times you can now try doing a full circle, or going around the clock.  Start at 12, tip over to 3, then 6, then 9, then 12 again.  Return back to neutral, then go the other direction or "counterclockwise", from 12 to 9 to 6 to 3 to 12.  Try this 4-5 times keeping your legs relaxed and muscles relaxed.  You can take a look at this video if you are completely lost.  When in doubt keep it easy and smooth.
Bridging on Wall
Purpose- To integrate your legs and back into pelvic movement to move and massage the pelvic floor muscles.
Start with your feet on the wall, legs bent to ~ 90 degrees.  Feel how heavy your pelvis is on the ground and how you can allow your pelvis can sink deeper into the ground and settle.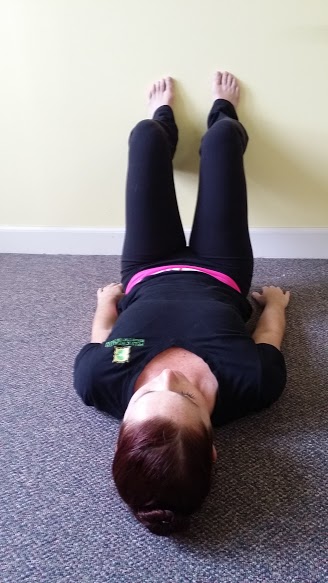 Now slowly start to tip your pelvis backwards, as if just the bones were moving. Press firmly but softly into your feet and start to roll your pelvis and low back off the ground so your pelvis can hover just off the ground.  Let your pelvic floor and hips feel loose, relaxed and easy.
Take a breath there at your top of the movment and slowly start to roll down one vertebra at a time towards the ground. Once one vertebra presses into the ground see if you can lengthen your hips away towards the wall and drop the next one down, and so on and so on.  Keep it easy.  Try this ~5 times.
Take a look at the video with some additional cueing.  Remember, only go as high as is easy and comfortable.
Mermaid
Purpose- To stretch the side body, hips and pelvis and improve expansion of the rib cage and pelvic floor muscles with breathing.
Sitting with your legs in a mermaid position- one leg turned out in front one leg turned in behind.
Or, if this is not comfortable at your hips or your knees you can sit cross legged or on a blanket so your pelvis is above your legs.
Settle into this position for one or two breaths just allowing your jaw, shoulders and pelvic floor muscles to let go.  Slowly reach your right arm up to the ceiling, keeping the shoulder easy.  Let your left hand provide some support on the ground as you reach up and over to the left.  Think about creating more length in the spine then just compressing the left side of your spine. Take a breath intoour right side body and rib cage.
You can play with going to either side, left and right.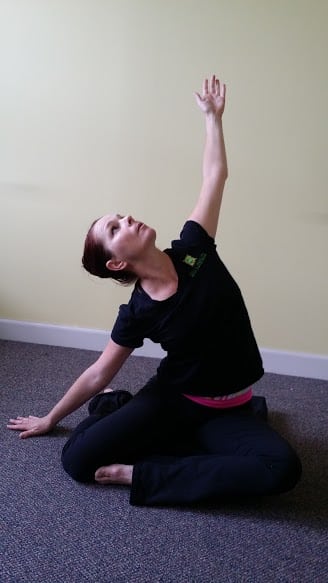 You can also try rotating your trunk slightly towards the ceiling or towards the ground to move the stretch and find more ease.  As long as it feels good.
Slow return to your start postion.  Once you have completely on side, switch your legs and repeat right to left.  If you are in sitting in a criss-crossed position you can switch which leg is on top and repeat the stretch again either side if you'd like.
*You can try these poses daily.  You should always feel better or no change in your symptoms. Though you may feel some stretching these exercises should never create more pain. When in doubt talk to your Pilates rehabiliatation professional or physical therapist. For more great exercises to improve pelvic floor mobility check out Casie's blog on Yoga Poses for Pelvic Pain!
______________________________________________________________________________________________________________________________________
Are you unable to come see us in person? We offer virtual physical therapy appointments too!
Due to COVID-19, we understand people may prefer to utilize our services from their homes. We also understand that many people do not have access to pelvic floor physical therapy and we are here to help! The Pelvic Health and Rehabilitation Center is a multi-city company of highly trained and specialized pelvic floor physical therapists committed to helping people optimize their pelvic health and eliminate pelvic pain and dysfunction. We are here for you and ready to help, whether it is in-person or online. 
Virtual sessions are available with PHRC pelvic floor physical therapists via our video platform, Zoom, or via phone. The cost for this service is $75.00 per 30 minutes. For more information and to schedule, please visit our digital healthcare page.
In addition to virtual consultation with our physical therapists, we also offer integrative health services with Jandra Mueller, DPT, MS. Jandra is a pelvic floor physical therapist who also has her Master's degree in Integrative Health and Nutrition. She offers services such as hormone testing via the DUTCH test, comprehensive stool testing for gastrointestinal health concerns, and integrative health coaching and meal planning. For more information about her services and to schedule, please visit our Integrative Health website page. 
PHRC is also offering individualized movement sessions, hosted by Karah Charette, DPT. Karah is a pelvic floor physical therapist at the Berkeley and San Francisco locations. She is certified in classical mat and reformer Pilates, as well as a registered 200 hour Ashtanga Vinyasa yoga teacher. There are 30 min and 60 min sessions options where you can: (1) Consult on what type of Pilates or yoga class would be appropriate to participate in (2) Review ways to modify poses to fit your individual needs and (3) Create a synthesis of your home exercise program into a movement flow. To schedule a 1-on-1 appointment call us at (510) 922-9836