By Jandra Mueller, DPT, MS, PHRC Encinitas
Here at PHRC we regularly discover all sorts of new and cool products that are available for people's pelvic health needs. I am amazed at some of the products available and that are being developed and am so thankful there are people that are creating these products because they are SOOO helpful! 
Pelvic health physical therapists treat a multitude of conditions that can include, but are not limited to, urinary dysfunction, sexual dysfunction, bowel issues (aka pooping), as well as pelvic pain. Pelvic floor dysfunction is not a gender-specific disorder and can affect all people at different phases of their lives. 
In case you missed it, check out last week's post with our first group of products we love. This week, we switch to things that can help people recover from pelvic pain and specifically painful sex.
Lets talk about sex baby… and all the products that can help with this fun activity!
Dilators aka known as "trainers" – Here at PHRC we have quite a few that we are a fan of! Dilators are used to decrease pain and increase tolerance of both vaginal and anal sex for all people, straight, bisexual, transexual, pansexual… literally everyone! There are differences in materials, colors, styles, and pricing so finding the right fit for you is important.
Milli vaginal trainer – This dilator is unique, it is the only expandable dilator yet. This means that you don't have to insert a series of dilators each time which may eliminate irritation if you have pain with initial insertion. It expands inside of you and you can measure specifically the dilation. Recovering from painful sex can take time, we love that this device helps people objectively measure progress with the digitized face depicting the size it has expanded to. It is made of a soft silicone and it does have a vibrating feature. It comes in its own charging case so it is easier to travel with as well.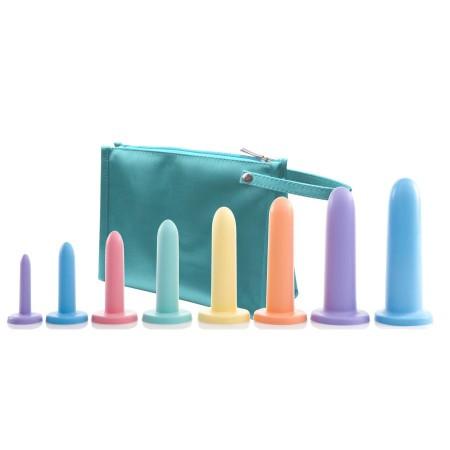 Soul Source Silicone Dilators – These dilators come in a vast variety of sizes and have different sets to match your needs. They are also made locally in CA! They are a bit on the pricier side, but they are definitely a quality product!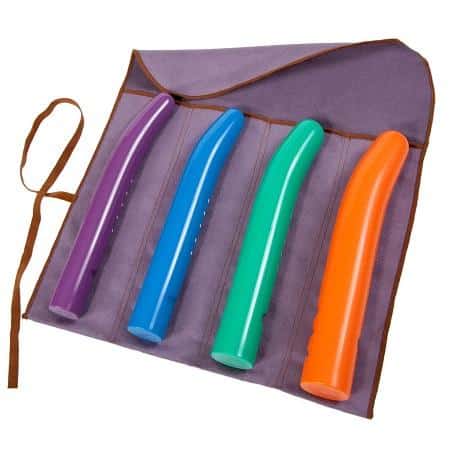 GRS – Dilator set by Soul Source – Soul source has made these specifically for those undergoing gender reassignment surgery in conjunction with a surgeon that performs this surgery. These dilators are made of rigid polyurethane, and can be chilled in order to use for post-surgical swelling in addition to using them for general dilation post-surgery.
Similar to soul source, these offer soft silicone (maybe even a little softer) and a variety of sizes and sets, and a bit cheaper as well! 

Silicone in general is nice because it often feels more like human skin instead of hard plastic. 

These dilators are silicone and offer a tapered end that can be useful for self-trigger point release as well as the standard use of dilators. There is a ring at the end to help with grip. 

These are another silicone dilator set, but are infused with an antimicrobial agent throughout the silicone. 
Clone-A-Willy – Yes, you heard it correctly, a cloning kit that allows you to clone your partner! This is for patients working specifically towards a goal of pain-free intercourse with their partner who may have anxiety/have a hard time communicating their needs during intercourse with their partners. Also comes in a variety of colors, even glow in the dark!

Ohnut!  – This device was developed for those that have pain with deep penetration. They are very soft, stackable rings that go on the male partner to create essentially a buffer so that penetration does not go so deep, yet both partners still feel pleasurable.
Personal Lubricants
To begin, there are a ton of personal moisturizers aka lubricants out there that are better used for anal vs. vaginal use. These depend on both the pH of the product as well as the osmolality. And there are things to consider like water-based or oil-based. SO. MANY. OPTIONS! 
Here's a little run-down that was presented by Melinda and then I'll share with you PHRC's top choices.
Lube + Sperm: 
The best conditions for sperm survival and motility is pH 7.2-8.5 and osmolality 270-360 mOsm/kg.

Brands:

Pre-Seed, Yes Baby
Vaginal and Rectal pH
Vaginal: 3.8 – 4.5

Rectal: 7.0
Osmolality
The World Health Organization (WHO) recommends osmolalities of less than 380 mOsm/kg

Silicone-, Plant, and Oil-based lube are also less likely to irritate, but their osmolality cannot be measured. 
What we use in the clinic:
Slippery Stuff                           Surgilube                          Relevum                          Good Clean Love
Typically we use Slippery Stuff  or Good Clean Love in the clinic for our transvaginal physical therapy and surgilube for transrectal physical therapy. The chemistry shows that it has a pH and osmolality similar to vaginal tissues, which means it will not damage tissues or make us vulnerable to infection, like some harsher products.  It also has aloe vera, which is a great moisturizer.

Releveum is now classified as a moisturizer because it can be used for longer than 60 minutes, while lubes are short-term and do not last longer than 60 minutes. Releveum is an aloe vera based lube/moisturizer. It contains 4% lidocaine that can be used to help soothe or numb burning tissue, like for those that have pain with initial penetration and suffer from vestibulodynia, and can help in the short-term for improving that pain!
For a more in-depth review about why lube selection is important, stay tuned for next week's blog by Melinda Fontaine, Lube 2.0!
Moisturizers and other care products for "down there"
There are some other moisturizers that can be helpful for irritated tissue, especially if you don't want to, or cannot use hormones for any reason. There are two that we often recommend for women that have pain with initial penetration from irritated or inflamed tissue at the entrance of  the vagina and the vestibule. I often recommend them for my mama's that are pregnant or postpartum and CANNOT use any hormones (even local ones) because it is contraindicated in pregnancy and postpartum. This is also true for those women who are concerned about, or would feel more comfortable not using hormones because they have had certain types of cancer.
These are both used to soothe the tissues, but have slightly different ingredients. Vital V is an infusion oil of wild yam, vitex which is often used to balance progesterone in the body, but naturally, comfrey as well as lavender oil and can be used as both a lubricant and moisturizer. V-Magic has some ingredients that are more antimicrobial. We use them both and it may just be a personal preference of which may work for you!
Now… this next one is specifically for the men out there!
Tame the beast – This product line is specifically for men. This line offers all sorts of products to make you smell good everywhere without creating irritation by using products with heavy chemicals.
Pelvic Floor and Technology
Even this area of the body is getting attention and there are a few apps that are pretty handy in helping with pelvic floor pain, dysfunction, fertility, etc. Here are a few of the top ones we use. 
One reason for tight pelvic floor is stress and our busy lifestyles! We often get so caught up in day to day life we aren't even aware that our muscles are clenching to the max! Being mindful and aware of your pelvic floor is one of the first things we teach our patients at PHRC. This means maybe taking a break to breathe or doing some meditation. Both Insight timer and Calm are great apps for doing various timed guided meditations. Read Stephanie's blog here to find out why and how meditation and mindfulness can help with chronic pain. 
Flo app is a period, ovulation, and pregnancy app where you can log all of your info! It's very easy to use and has 1-touch buttons that can help you track any symptoms you may have. This is helpful when you can't remember all the things that happened when you need to report back to your therapist each week! It also offers some daily fun facts and information about your health that you may not have ever known!
If you have ever been a patient here at PHRC or visited our office, you may recognize these products because we really do use them all the time! If you have feedback about these products we'd also love to hear so feel free to comment below and share some of your favorites!