Irritable bowel syndrome (IBS) is considered a functional gastrointestinal disorder. The Rome Foundation defines IBS as when a person has chronic abdominal pain at least one day per week in the last three months combined with at least two of the following: abdominal pain related to having a bowel movement; abdominal pain onset is associated with change in stool frequency; and/or abdominal pain onset is associated with change in stool form. The National Institutes of Health (NIH) reports that in 2004 there were 3 million ambulatory care visits with IBS noted as a diagnosis, and slightly more than half were first-listed diagnoses1. This disorder is estimated to affect 11-22% of the world's population2. IBS is an incredibly common disorder and the demand for improved treatment options to treat this dysfunction is great. In order to understand how to treat IBS, we must first understand how cognitive and behavioral factors can impact gastrointestinal health.
A key component affecting those who suffer from IBS is the Gut-Brain Axis (GBA). This refers to the bidirectional link between the central nervous system (CNS) and the autonomic nervous system (ANS). Specifically being effected is the enteric nervous system within the ANS, which consists of the network of neurons that governs a person's gastrointestinal tract. Dysfunction here can manifest as symptoms including motility disturbance and visceral hypersensitivity, the most common manifestations being bowel dysfunction and pelvic and/or abdominal pain, respectively. Visceral hypersensitivity in particular can play a large role in IBS because these patients experience pain at lower thresholds than healthy controls. Unfortunately this can set off a cascading positive feedback loop of having some sort of stressful trigger which disturbs your gut and upsets the ANS, which causes visceral anxiety and increases GI symptoms, which then leads to further anxiety triggering more stress in the CNS, and the cycle continues. For more information on the link between you gut and your brain, check out our blog post called
The Brain Below: The Role Your Gut May Play in Pelvic Pain.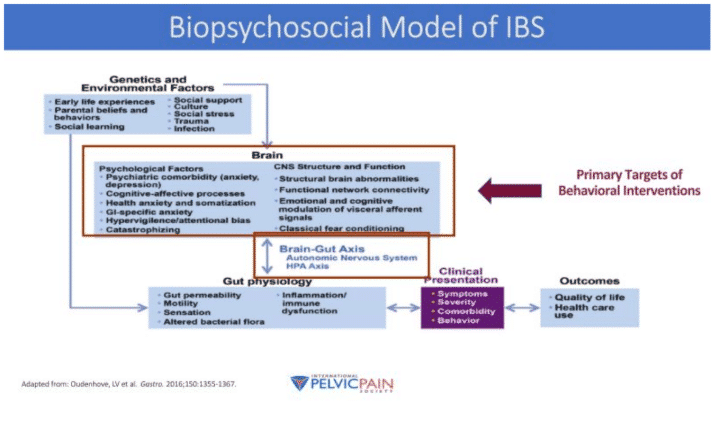 Most conventional approaches to treatment for IBS attempt to make changes at the level of the gut, for example, using pharmaceuticals and making diet alterations. These approaches are largely symptom based and are missing a key component in addressing this dysfunction by not including behavioral treatments. Because IBS is considered a functional GI disorder, as opposed to a structural disorder, emerging treatments have begun to include more practices that target this BGA to break the cycle of stress and symptoms by using behavioral therapies.
In October of 2019 at the annual meeting of the International Pelvic Pain Society, Sarah W. Kissinger, PhD, ABPP discussed using behavioral treatments for IBS. Dr. Kissinger discussed the efficacy of cognitive behavioral therapies (CBT) as treatment for IBS. The theory behind using CBT is to disrupt the positive feedback loop of stressors which affect the CNS proceeding to disrupt regular functioning in the ANS which will causing an escalation of GI symptoms. Cognitive behavioral therapy can give patients the tools necessary to modify physiological arousal and stress sensitivity, reduce catastrophic thoughts relating to symptoms, and address maladaptive coping behaviors. Patients who trialed CBT as treatment for IBS experienced positive changes in illness perceptions following intervention which mediated the treatment effect on improved IBS symptom severity and social adjustment six months later. 3
Treatment for IBS requires a multifaceted approach including behavioral therapies such as CBT and/or hypnosis. Traditional treatments such as pharmacological management and dietary changes are largely symptom based and do not do enough to affect the Brain-Gut Axis. Many patients will benefit from the addition of these alternative treatment methods to best reduce a patient's symptoms and improve quality of life.
Additional information on IBS and hypnosis, as well as resources for how to find providers who specialize in this can be found at ibshypnosis.com. To learn more about PHRC and get in touch with a provider who can help you tackle IBS check out our website.
References:
Everhart JE. Functional Intestinal Disorders. Everhart JE, editor. The burden of digestive diseases in the United States. US Department of Health and Human Services, Public Health Service, National Institutes of Health, National Institute of Diabetes and Digestive and Kidney Diseases. Washington, DC: US Government Printing Office, 2008; NIH Publication No. 09-6443 [pp. 77-87].

Aziz et al, AM J Gastroenterol. 2018;113:86-96:Russo et al., J Clin Gastroenterol 1999; 29:339-43; National Institutes of Health. The burden of digestive diseases in the United States, 09-6443; January 2010.

Chilcot J, Moss-Morris R. Changes in illness-related cognitions rather than distress mediate improvements in irritable bowel syndrome (IBS) symptoms and disability following a brief cognitive behavioural therapy intervention. Health Psychology Section, Psychology Department, Institute of Psychiatry, King's College London, UK

Palsson, O.S., Turner, M.J., Johnson, D.A. et al. Dig Dis Sci (2002) 47: 2605. https://doi.org/10.1023/A:1020545017390